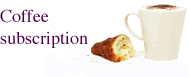 Get your coffee delivered to your door without re-ordering.
Read more







Nordic Trade facilitates import of Scandinavian products to the U.S. We ensure our customers the best quality product there are which is why we chose Lofbergs Lila for our best selection of Swedish coffee.

We cater our products to all of the U.S. market including wholesale, restaurants, retail, office, web orders and subscription services of Löfbergs Lila Kaffe.

We take pride in the work and knowledge/effort behind Löfbergs Lila coffee. Their products are made for every type of coffee drinker and taste buds. We provide you with a mild medium roast to a rich dark roast coffee and from there you develop the taste and flavor you learn to love.

To make sure we know everything about our products Nordic Trade participates every year in coffee classes offered by Löfbergs Lila. We are up to date with new products and ideas that are developed around the coffee.

Coffee is like wine where you have to experiment with your coffee to get the taste you are looking for. Have fun and enjoy your coffee by yourself or with your friends.


Löfbergs Lila
Löfbergs Lila was founded in 1906 and is privately owned by the Löfbergs family. It is located in the city of Karlstad, Sweden.

As you drive in to the city you will be indulged by the smell of coffee. Over the years Löfbergs Lila has become a sought after coffee in Sweden. Its customers have spread to USA and can now be bought through Nordic Trade.

The production of quality coffee with the right flavor requires careful handling at all stages in the production process. Löfbergs Lila has one of Europe's most modern production plants, where the coffee is checked closely throughout the production chain.


Sponsorship
Löfbergs Lila is the head sponsor for the Swedish Champion Hockey Team of 2002, Färjestad BK and it is now also official that Färjestad will continue to play for Löfbergs for at least another three years, starting fall 2003.

The contract with the Färjestad is the Löfbergs´ largest single marketing venture. "We are convinced that our cooperation with Färjestad will have a positive effect on our operation, even in the future," says Anders Löfberg, president and owner of Löfbergs Lila.