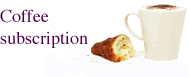 Get your coffee delivered to your door without re-ordering.
Read more







Nordic Trade at the 2003 La Auto Show
In January 2003 Volvo launched their new cars XC90, V70R and S70R with the help of Löfbergs Lila coffee from Nordic Trade at the LA Auto show. Nordic Trade was part of the opening offering Swedish coffee and Scandinavian pastries at the Volvo booth. Volvo did really well and it was a pleasure being part of it.

Nordic Trade at the Olympics
Nordic Trade was the proud supplier of Löfbergs Lila coffee for the Swedish Olympic troop during the 2002 Winter Olympics in Salt Lake City, USA. Swedish coffee is essential for the Swedes, which made it even more special to be able to provide the Swedish athletes with our coffee.